The COVID-19 pandemic will continue to rearrange our lives for the foreseeable future. Some of these disruptions are annoying and others give us a chance to "make lemonade" with our continuing genetic genealogy education.

During a normal winter and spring, I look forward to the following opportunities to meet with colleagues and share learning opportunities about the latest developments in genealogy--particularly genetic genealogy:
The Family Tree DNA (FTDNA) Project Coordinator's conference -- usually in mid November;
Middle Tennessee Genealogical Society (MTGS) Seminar Annual Seminar -- usually the Saturday before Thanksgiving;
RootsTech -- usually in February; and

Southern California Genealogical Society Jamboree with its embedded Genetic Genealogy Conference -- usually in early June.
I plan my annual travel schedule around these events. This year all of these events are not going to be what I normally expect. It will be disappointing not to have the face-to-face fellowship with colleagues from around the world. However, the rearranged formats for some some of these events offer opportunities to more people to benefit from the presentations that will be presented in virtual format. This will be a relief to travel budgets and still provide some outstanding learning experience to more genealogists.
FTDNA Conference

At the moment the FTDNA conference has been indefinitely delayed.
MTGS Seminar

The MTGS Seminar will be offered online with four outstanding presentations. It is coming up very soon but there is still time to register. Register here.
MTGS 32nd Annual Genealogical Seminar
Online-only Event this year
Saturday, November 21, 2020
9:00am - 2:00pm Central Time
While we cannot hold our traditional in-person Seminar this year, that doesn't mean that we don't have, as usual, a great panel of speakers for this year's Seminar:

Elizabeth Shown Mills

, CG, CGL, FASG, FNGS, FUGA, will present

"Samuel Witter vs Samuel Witter: Separating Same Name Soldiers, War of 1812."



Dr. David Dowell

, DNA author and past MTGS Board Member, will present

"If Grandpa Gave No DNA, Can I Find Out Who Did?"



Zachary Keith

, Archival Assistant at the Tennessee State Library and Archives, will talk about the

Patriot Paths Website at TSLA - GIS Mapping of Revolutionary War Veterans



Chuck Sherrill

, Tennessee State Librarian and Archivist, will introduce us, virtually, to the new Library and Archives building in

"Winning the Battle for a New Library and Archives"

This year's Seminar is free for current MTGS and THS members, and $10 for non-members, but pre-registration is required.

Non-members who register will automatically receive a 6-month MTGS membership (December 2020 through May 2021), including the Winter 2021 and Spring 2021 issues of the MTGS Journal.
---
The Seminar will be conducted online using Cisco WebEx software, provided courtesy of the Tennessee State Library and Archives. Registered attendees will receive instructions on how to connect via WebEx, prior to the event.
RootsTech 2021

The rich offerings of RootsTech, the world's largest genealogical conference, are far too extensive to describe here but can be sampled online

25 - 27 FEBRUARY, 2021

For the first time ever, the world's largest family celebration event will be entirely virtual and completely free. Get ready to celebrate shared connections with people from around the world. Connect with friends, your family, your past, and your heritage and homelands—all from the comfort of your home and in your browser.
SCGS Jamboree

For the past several years there have been two conferences bundled back to back to accommodate travelers from around the world. The chronologically first has been restricted to genetic genealogy and this has been followed by a more general genealogy conference. This year, since the travel will be virtual, the two conferences will be on adjoining weekends to allow staff to support both more completely and attendees to absorb more completely: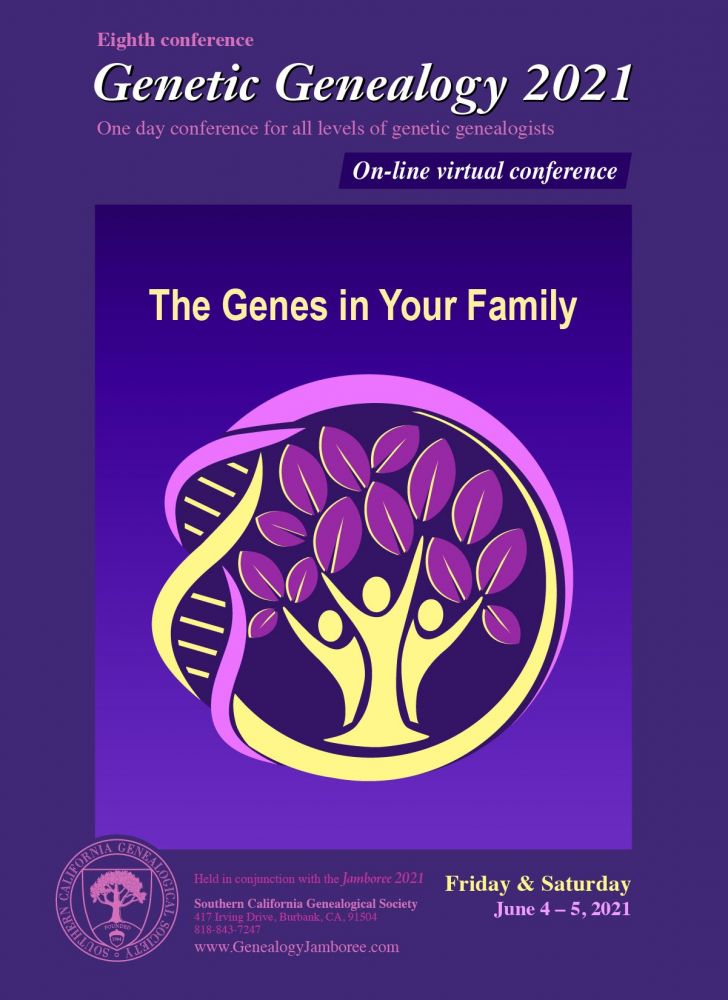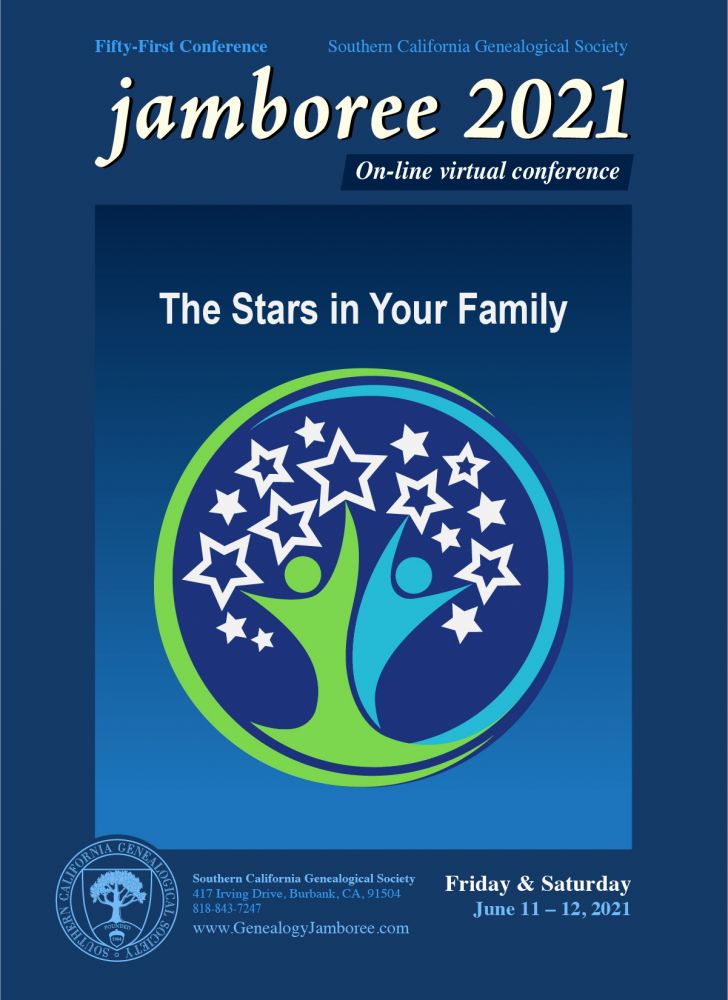 I'll be presenting at Jamboree as well as at the MTGS Seminar. I hope you get to attend many of the above sessions.